To The Contrary – THE BLOG
---
Women CEOs; Egg Freezing; Male Sexual Assault
October 17, 2014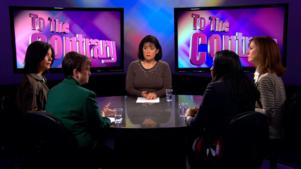 This week on To The Contrary with Bonnie Erbe, our panelists discuss why women still have a long way to go in the business world, the controversy of egg freezing benefits for female employees, and male sexual assault.
On the panel this week joining host  Bonnie Erbe is The Daily Signal's Genevieve Wood; Senior Fellow at the Independent Women's Forum Patrice Lee; Progressive Commentator Patricia Sosa; President of the National Network to End Domestic Violence Kim Gandy
Click "read more" to see what they had to say!
Women CEOs
Only 2 women in the HBR's list of the Top 100 Most Effective CEOs
Genevieve Wood: "There are more men CEOs, so when you have a top 100, you're going to end up with fewer females."

Patrice Lee: "It's not that we're not making progress. I mean sure, the numbers are not equal, but there's a choice involved here. There are a lot of young women who don't want to be in a C-Suite and there's nothing wrong with that."

Patricia Sosa: "Men are in charge of selecting the CEOs of these companies. Why are we surprised that men are getting the jobs?"

Bonnie Erbe: "I think everybody expected more men, but not expecting 98% men, there's a distinction."

Kim Gandy: "If your measure of top CEO is strictly and only return-on-investment as it was here, then you're not going to see the turnaround companies and those have many more women in them."
Egg Freezing
Apple and Facebook offer to pay women to freeze their eggs
Genevieve Wood: "Women should know just freezing your eggs is not going to guarantee you children late in your 30s."

Patrice Lee: "I think it sends a signal to my generation that, 'yes, it's okay to give 10 to 20 years of your life to a company or to progressing your career and you'll be alright if you want to start a family,' and that's not realistic."

Patricia Sosa: "I don't think it's [egg freezing] a hidden agenda to force women into not having kids at 35 so they can become the CEO. It's just another benefit [companies] want to give them."

Bonnie Erbe: "The average starting pay, not just at Google or Facebook, but for all these companies in San Francisco, for out of school computer engineers is 180 thousand dollars, they're doing better than kids out of Harvard Law School"

Kim Gandy: "If we had more companies that employ more people who had onsite daycare, who had paid family leave, who had other options, so that younger women can have families and can remain in the workforce, if that's what they choose to do, that's where you're going to make a difference."
Male Sexual Assault Survivors
Male victims speak out
Survivor Bob Hunter: "I knew that being quiet would be death."

MaleSurvivor.org's Chris Anderson: "When survivors are able to access support, when we are heard, when we are believed … it's absolutely possible for healing to take place."

Survivor James Landrith: "[The prosecution of military sexual assault cases] needs to be completely out of the chain of command."

Survivor Brian Lewis: "Male survivors are in need of organizations that provide services on a full-time basis to them."

Genevieve Wood: "[Rape] is an act of power. It's aggression…this story shows what a dramatic effect this has on people for years."

Patrice Lee: "So whether it's your fellow comrade or even when we take this out of the military and just into regular society, how we treat one another, there has to be more respect in our society and our culture and we've lost something there."

Patricia Sosa: "It's really the evolution of culture because in so many cultures men will not say 'I've been raped by a woman' because [they've] always wanted to have sex with a woman. It's a good thing they're publicly saying 'I did something I didn't want to do' and create awareness."

Bonnie Erbe: "As a woman, I was shocked beyond belief to find out, producing this story, that women can rape men. And what I did find out was that, to be blunt, the male organ responds whether its a result of stress, of duress, or of desire."

Kim Gandy: "There are people who will abuse their power in whatever walk of life they are and women are not exempt from that."
Be sure to tune in this week for more discussion! Click here to check your local listings.