More Than A Love Story: Cassandra By Starlight
I'm not one to read romances, like, ever – with the exception of Dorothy Eden's "Winterwood" from 800 years ago or so.  I was looking through a pile of used books at a garage sale, found the cover art interesting and didn't put the book down.  Sometimes, that is how it works out with a book.
I first heard about Cassandra By Starlight from the author herself.  She had Tweeted about female on male rape, which caught my attention as a male survivor of a female predator.  When I responded to her and identified myself as a survivor, she admitted to me that my own story had been used as source material for a section of the book.  I was not sure what to think at first.  Surprise and, umm, surprise.  I decided to read it and see what she had created.  I added the book to my Nook and then let it sit there a bit.  It took me a while to get the courage to read this book.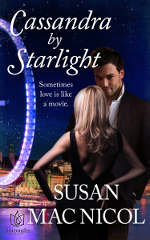 Now, knowing that part of a horrible experience from my life was to be found masked within the pages didn't make it easier to get started.  However, Susan created believable and likable characters that you get attached to quickly.  I saw friends in the personality and life experiences that made up both Cassandra and Bennett.  They fought and loved and survived.  I know that story.  Its very real.
The pages dealing with both the rape and the aftermath were realistic from the perspective of both perpetrator and victim.  She (the stalker and rapist) was creepy and disgusting and realistic.  I cringed and remembered my own experience.  It was real to me.  It was also nice to see supportive friends included and a real reaction to a traumatic event portrayed in the book.  Too often, a similar scenario with the same gender mix is played for comedic effect or it is "shaken off" like it was nothing.  Male survivors of rape are real people, with real emotions.  Susan did not create a caricature.
I don't want to reveal any more about the story.  What I've said above can be found on the author's own blog, so I feel comfortable discussing as much.
Despite what both of the main characters endured, they do find happiness in the end.  It is a romance, you know?  While at the core, Cassandra By Starlight is a love story, it is also a story about transcending adversity and multiple traumas.  It is about making a life in spite of what happens to us, not because of what happens to us.
Read it.  You won't be disappointed.
About James A. Landrith

James Landrith is a healing rape survivor, public speaker, internationally syndicated blogger, civil liberties activist and the notorious editor and publisher of The Multiracial Activist (ISSN: 1552-3446) and The Abolitionist Examiner (ISSN: 1552-2881). Landrith can be reached by email at: james@jameslandrith.com or at his personal website/blog.
[goodreviews isbn="9781938876011″]