Posted on January 3, 2017 by admin in Rape, Sexual Assault and Abuse.

As a male survivor with a female rapist, I often hear from women who have been victimized by other women. The stigma, denial and utter disregard shown victims of female predation is rampant and the effect is devastating on victims. Key themes are deflection, trivialization, mockery and outright denial. I always make a point to […]

Continue Reading... No Comments.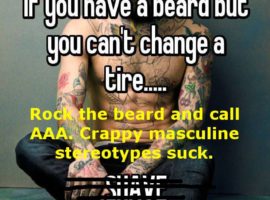 Posted on December 22, 2016 by admin in Popular Culture.

I always find the idea that manhood is tied to specific traits to be utterly bizarre. I can change my own tires, oil, brake pads/shoes, belts, starter, etc. Hell, I have even changed out a transmission by myself (three super annoying times in an Illinois winter – outside) until I got one from the […]

Continue Reading... No Comments.